 Endodontics
... root canal treatment
Root canal treatment
Endodontic treatment, commonly referred to as root canal treatment (RCT), is most often necessary when we deal with inflammation associated with very deep caries, inflammation of the tooth pulp and periapical tissues, after trauma and fracture of the tooth crown and after an incorrect previously performed RCT.
What is root canal treatment?
Endodontic (root canal) treatment consists of thorough removal of infected or irreversibly changed inflammated pulp tissue, mechanical cleaning of the canals, their disinfection, and then filling them with appropriate materials. At the end of the procedure we protect the tooth crown. The procedure is performed under local anaesthesia. During the procedure, the treated tooth is isolated from other teeth by cofferdam. During the preparation and disinfection of root canals, files (manual and machine files) are used, and the length of the canals is measured with a device called an endometer. To make the work as precise as possible, a microscope is used during the procedure. Then, the root canals, prepared and tightly filled in, are controlled by taking an X-ray.
Does root canal treatment hurt?
Endodontic treatment, commonly known as root canal treatment, is performed under local anaesthesia, so it is fully comfortable for the patient. Only a few days after the RCT procedure the patient may feel some discomfort and increased sensitivity, including the treated tooth.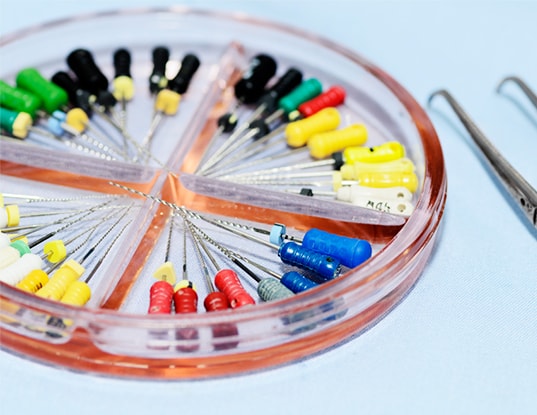 How long is root canal treatment?
Due to the experience of the medical team and the use of state-of-the-art systems and equipment, RCT can be performed even during one visit. However, everything depends on the complexity of the case. The endodontic treatment procedure may take several hours and in some situations even several visits may be necessary.
Optics and precision
In our Clinic we use the most modern equipment required for precise treatment. We use a surgical Leica microscope. We determine the length of the roots using Raypex 5 endometer. We fill the root canals with liquid gutta-percha, using the Obtura system.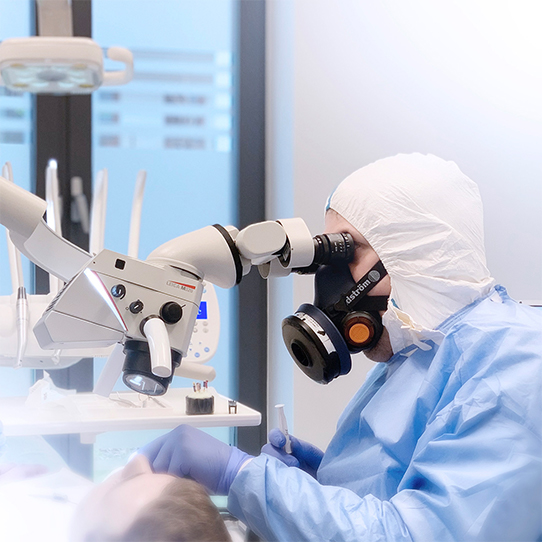 Complicated cases – our specialty
We often use CBCT to precisely diagnose and control the treatment process. We carefully prepare, expand and fill the channels. We clear even the overgrown, narrowed and curved canals. We remove broken canal tools. We save.
Make an appointment
... or learn more
Endodontics
Root canal treatment (depends on the number of canals)
600 - 1400 PLN
Repeated root canal treatment (re-endo)
800 - 1600 PLN