 Aesthetic medicine
... and you smile more often
In our clinic, aesthetic medicine is a naturally complements the comprehensive services of aesthetic dentistry and usually crowns the bite reconstruction and smile metamorphosis.
Dental treatments focus on the area of "hard" tissues – bones, teeth and gums, which are the foundation for "soft" tissues – lips and cheeks. Aesthetic medicine treatments are used in the area of soft tissues (lips and cheeks) and they improve what is no longer included in the scope of dental treatments. Depending on the needs, they focus on the area around the mouth or the entire face. Well-moisturised, "juicy" lips complement a beautiful smile. Aesthetic dentistry and cosmetic medicine permeate each other. Full metamorphosis is the result of a combination of treatments in both areas. It beautifies the face, restoring it fully.
Aesthetic dentistry and cosmetic medicine begin to permeate each other. Metamorphosis combines these fields to give a tired face more shine.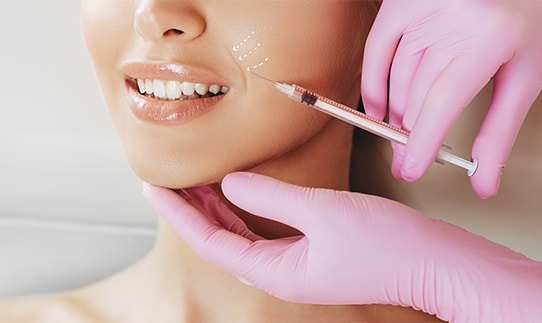 The most frequently performed procedures of aesthetic medicine include:
thin-needle mesotherapy
revitalisation, skin hydration
DERMAPEN mesotherapy – biostimulation
"vampire" lifting – platelet-rich plasma or platelet-rich fibrin treatment
CGF Harmony, Liquid,One – regeneration treatments with concentrated growth factors and stem cells
botulinum toxin treatments, eliminating "lion's wrinkle", wrinkles on the forehead, or to support bruxism treatment
treating excessive sweating (hyperhidrosis)
treatments with fillers (hyaluronic acid of various densities) giving a lifting effect, improving lip hydration or correcting unwanted wrinkles
chemical peels to support skin regeneration
treatments with PDO threads to enhance the lifting effect.
In our clinic we also consult with an experienced plastic surgeon and then we extend the range of treatments with plastic surgery:
removal of birthmarks and papillae,
eyelid correction and other.
Make an appointment
... or learn more
Aesthetic medicine
Botulinum toxin (botox) 1 area
500 PLN
Bruxism treatment
1500 PLN
Mesotherapy
500 - 1000 PLN
Dermal filler – 1 vial
1200 PLN
Skinbooster treatment
700 PLN
Thread lift
500 PLN / piece
Hyperhidrosis treatment
1500 PLN
Chemical peel
300 - 600 PLN