Uszyńscy Dental Clinic (the first name of the clinic: Dormed) was opened in 1999. We have our own dental lab, Uszyńscy Dental Lab, dental training centre Uszyńscy Academy and 22 dental chairs in two localisations – one in Komorów and one in Żoliborz in Warsaw.
Our goal was to create a place, where cooperation between dentists of different fields could result in a smart, complex approach towards a patient and in planning the treatment in a technically and artistically consistent manner. The philosophy of our company is to treat dentistry as a form of art. Artistic approach to each work is a standard to us.
Our own dental lab gives us comfortable treatment options. At each stage (design, fitting, correction) we consult with technicians, which means that we approach to each work in a perfect and an individual way. It is a "from project to effect" approach, which combines functionality and aesthetics. The last step is fusing ceramics to metal, individually for each work.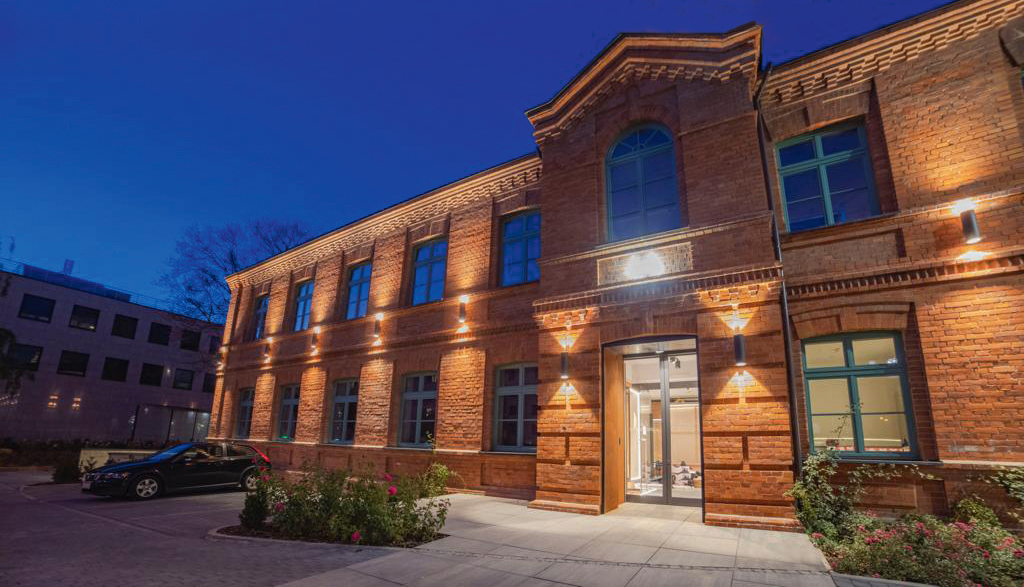 Compromise free
Achieving such a good aesthetic effect of our works has become possible thanks to the development of our proprietary method of bite raising. Thanks to this method we can quickly and efficiently reconstruct the correct occlusion and tooth surface loss. All our works, both conservative and prosthodontic, are performed with maintaining of a proper vertical dimension of occlusion, which makes it possible to restore the patient's physiological condition from years ago. Our treatment is a causal treatment, not just symptomatic, so it provides a lasting effect.
Walking in the wilderness, we were making plans… We wanted to create a unique place and a unique work environment that would be good not only for us, but above all for our patients. So we decided to design and build the clinic from scratch. We were looking for a plot in several forest districts around Warsaw. However, when we got to Komorów, while getting out of the car, I stepped on a horseshoe – I knew, this must be the place. The old rusty horseshoe now hangs on the wall in our office. Do you believe in destiny? We did, so the construction began…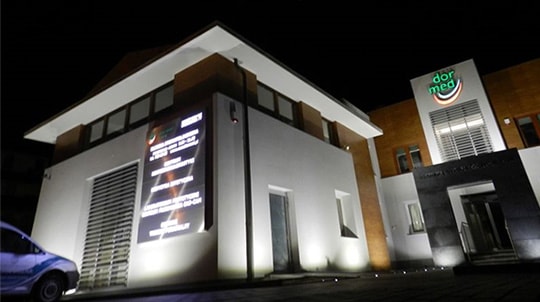 Clinic in Komorów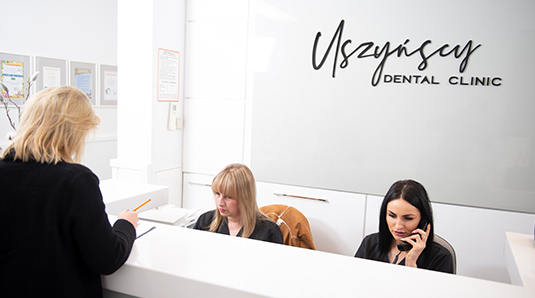 The clinic in Komorów is now a recognisable brand and we are proud of it. We were completely absorbed in this work for 20 years. Since then, we had over 35,000 patients, we managed to create a strong, solidary team, who takes responsibility for their work and cares about their patients. We constantly improve ourselves, learn and grow. We introduce new technologies and apply our own treatment methodology, proven and developed over the years.

The new clinic in Żoliborz – Uszyńscy Dental Clinic Powązkowska 44
In 2019 we opened our second clinic – it was the next step of realising our dreams. After five years of revitalisation of the historic Carskie Koszary, we opened for our patients a beautiful and functional facility, equipped with the most modern dental equipment and 11 dental chairs.
Uszyńscy Dental Clinic Powązkowska 44 is a combination of dentistry and art. In one building we combine a dental clinic, a modern art gallery, a training facility and a charitable foundation KISS.
Uszyńscy Dental Clinic is an art space and a place where we organise music events, meet-the-author sessions, vernissages and concerts. We promote cultural events of the capital city. The loft-style interiors are a reference to 50' and 60'.
The waiting room of the clinic is also an art gallery. It consists of two parts: a registration desk, where you can find our permanent modern art collection, and a hallway connected to a garden, where you can find temporary exhibitions.